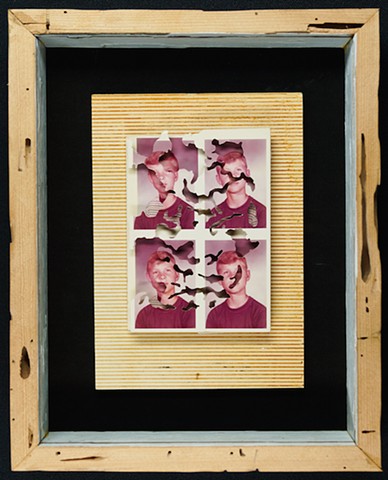 Kenny Jensen
Eroding Histories II
found photos with hand cut actual size termite patterns, album page, fabric, frame constructed from repurposed materials
10.5" x 8.5"
2015
www.kennyjensen.com
Exhibition Statement
The old photos featured in "Layered Histories" were found in family albums rescued from an abandoned mobile home near "Slab City" out in the Mojave Desert, CA. The majority of these classic school yearbook prints, Polaroids and snapshots of this developing family's narrative seem to be documenting a time close to my birth in the late seventies. Also included were more recent b&w portraits of the women who lived there, possibly taken close to the time of her departure. It remains a mystery how these once cherished memories were not preserved by the family whose collected histories are now left for anyone to find and wonder.
The hand cutout termite patterns were traced directly from excavated stacks of my grandfather's random personal papers abandoned for many years out in the barn on their land in the hammock forests of Florida's Nature Coast. These delicate forms are a record of destruction left in the wake life. However, the wandering paths of the leaf miner larvae collected from a specific type of tree in the surrounding swamps reveal the growth of life toward transformation.